Looking for a unibit for your next project?
In this buyer's guide, we've reviewed the 7 best step (or uni) drill bits for sale in 2023.
We've also discussed some key things to consider when buying, to help you find the right bit, or the right set, for your specific needs.
No time to spare? Here are our top three picks:
Quick Comparison Table
BEST OVERALL
Klein Tools
KTSB15 Step Drill Bit
Klein Tools
KTSB15 Step Drill Bit
Contents
Best Step Drill Bits

In this section, we'll showcase some of the best step/uni drill bits you can buy right now.
This set from Neiko comes with three unibits – there's a 1/2″ one for general use, a 3/4″ one for larger holes, and another 1/2″ one with more steps for more precise drilling.
For most uses, this set has everything you need – no longer will you have use tape wrapped around the bit to ensure you get the right size hole. But how do the bits perform?
The first thing you notice about these unibits is how easy they are to use. They won't walk across the surface due to the split-point tip, and won't require pilot holes in most cases, especially with the smaller two bits.
Plus, they come with a titanium coating, which does a good job keeping the tip sharp. The sizes of each step are engraved into the bit, ensuring they don't rub off.
Given the price, these bits work extremely well with sheet metal, including thicker sheets, as well as plastics such as acrylic.
Pros
Durable.
Easy to use.
Comes with just about any size you'd need.
Great price.
Cons
N/A – excellent bits for the money.
Overall value rating
⭐⭐⭐⭐⭐
Unlike the unibits we just looked at, this option from DeWalt is designed for impact drivers specifically.
You can still use this bit with a regular drill, but it might be a bit overkill, given how tough it is.
DeWalt's step bit has a longer, more tapered design than most other options, and a split-point tip to allow for quick and easy drilling. Plus, it bit comes with two flutes rather than one, making for much more efficient chip removal than you'd get with most other step drill bits.
As you'd expect from DeWalt, this bit comes with a titanium coating, and will last a really long time – even if used quite often to drill metal.
This isn't a cheap bit. However, if you have an impact driver, or just want something to allow for efficient hole drilling, it's a great pick.
Pros
Extremely tough.
Efficient chip removal.
Works with impact drivers.
Allows for quick hole drilling.
Cons
Expensive, but worth the investment in our opinion.
Overall value rating
⭐⭐⭐⭐⭐
If you're looking for a cheaper step bit to get the job done quickly, then this option is worth looking at.
The first thing you need to know about this bit is it's not designed for hard metals, such as steel. It's designed to be used on aluminum, copper, and softer alloys, as well as other materials such as wood and plastic. If used on material that's too hard, the tip will go blunt very quickly.
You still get a titanium coating with this bit, which does a good job increasing its usable life. This unibit is available in a few different sizes – this one has steps from 1/4″ up to 1-3/8″.
amoolo also include a storage box with their product, which isn't something you normally get with an individual bit.
Ultimately, for occasional use on most types of material, this unibit is definitely worth considering, especially if you're on a budget.
Pros
Great value.
Durable, when used on the right material.
Comes with a handy storage box.
Cons
Not suitable for hard metals.
This is another step bit set, similar to the Neiko set we originally looked at, except it comes with a wider variety of different drill bits.
There are three different sets available from Comoware, but we like this one because it comes with a center punch, to make it easier to start larger holes.
Counting all of the steps on all five bits, there are 50 different sizes in total, making this a very versatile set. Despite this, it's not too expensive either.
Each bit comes with a titanium finish, and the split-point tip stays sharp for a really long time. The included case is pretty sturdy too.
The only real downside to these step bits is the measurement markings can wear off quickly. The bits themselves tend to last a really long time, though.
Pros
Sturdy – tip stays sharp over time.
Reasonable price.
Very versatile set.
Comes with a center punch.
Cons
Measurements can wear off over time.
Overall value rating
⭐⭐⭐⭐⭐
The Klein Tools step drill bit is probably the most expensive option you can buy right now. But what do you get in return for the extra cost?
Essentially, this bit is more durable, easier to use, and more efficient than basically anything else out there.
It works on nearly any material, including hard metals, with no issues at all. Plus, the tip is designed specifically not to walk, making it easy to start off your holes, and allowing you to drill more holes more quickly.
As you'd expect given the price, the holes you drill with this bit will be incredibly clean, with next to no burr. You get consistent drilling for the lifetime of the bit.
Another nice thing about this bit is there are silver targets for your main hole sizes, so that you don't have to tape around the bit to get the size you need. If you tend to have a lot of variation in the sizes of hole you're drilling, this silver lining can be a very nice thing to have.
Pros
Extremely durable.
Produces clean, consistent holes.
Works with nearly any material.
Easy to use with no need for pilot holes.
Overall value rating
⭐⭐⭐⭐⭐
This is a similar-size step bit to the Klein Tools option we just looked at.
Like Klein's bit, this unibit features a double-flute design to maximize chip extraction efficiency, and comes with a titanium coating for durability.
This bit is also a bit bigger – it can drill up to 2-3/8″ diameter holes, and still has 10 steps, which is nice.
However, because it's a little bit cheaper, this bit isn't as tough. Although it works fine on most materials, including some metals such as aluminum, it isn't the best option for tougher metals, such as steel.
Despite not being the most durable option, CO-Z's step drill bit is quite fast when compared to other options, especially cheaper bits. This is the main reason this bit is worth considering, given it's a little on the expensive side.
Pros
Allows for fast, efficient drilling.
Large – will drill up to 2-3/8″ holes.
Does a good job removing chips.
Cons
Cheaper than Klein, but still a little expensive.
To drill smaller holes, it's often easier to use a longer, thinner bit, like this option from Irwin Tools.
This is because although larger bits technically allow you to drill a larger number of different-size holes, their size can make them difficult to use in certain situations where the area you want the hole is obstructed or difficult to reach.
Irwin's step bit is a simple single-flute option, designed to drill small holes as easily as possible. It's very easy to control how you progress through the steps, allowing you to make the hole as big (or as small) as you want, which is great.
It has a long, thin design, for reaching difficult areas, and the tip is engineered specifically to eliminate walking and allow for easy drilling.
Given how useful this step drill bit can be, the price is very reasonable. If you're looking to drill holes from 3/16″ up to 1/2″ in materials other than hard metals, it's definitely worth considering.
Pros
Long, thin design allows you to access tough-to-reach areas.
Smart tip design.
Easy to make your way through the steps.
Good price.
Cons
Won't work well on steel.
Overall value rating
⭐⭐⭐⭐⭐
How To Choose A Step Drill Bit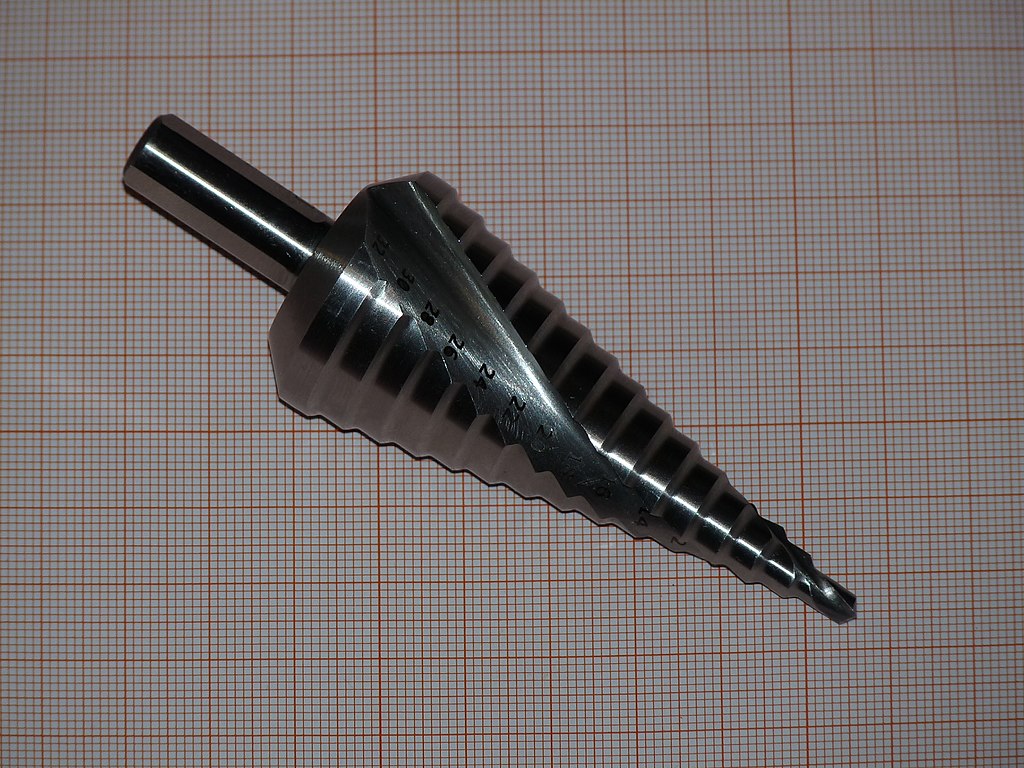 Now we'll discuss some key things to consider when buying a step drill bit, or a set of step drill bits.
How do step drill bits work?
As the name suggests, step drill bits (also known as unibits) have different "steps", which the bit moves through as you drill each hole.
They're often used as an alternative to a hole saw, because of how useful they are for making clean holes in many different types of material.
With most step drill bits, they're self-starting. This means that you can begin your hole with the unibit, and continue drilling through each of the different steps, until you reach your desired hole size.
Some larger unibits have a larger tip diameter, meaning they must be used to enlarge holes that have already been started using other drill bits, or using a center punch tool.
Since step bits do not have the same type of traditional-shaped flutes that you would expect to find on a drill bit for plastic for example, they do not do a good job efficiently removing chips, making them less appropriate for drilling through deep material.
Benefits of step drill bits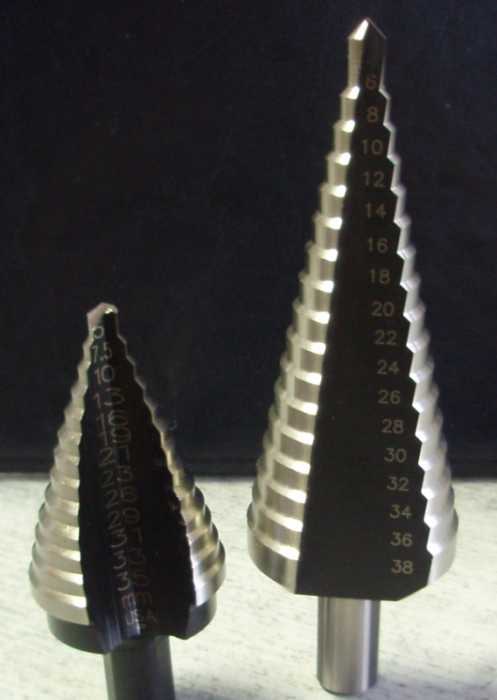 There are a number of benefits to using step drill bits over a hole saw or traditional-shaped drill bit.
They allow you to drill different-diameter holes with the same bit.
They allow for easy and efficient hole drilling.
They normally create very clean holes, depending on the material being drilled.
They allow for precise hole creation, as they very rarely walk or jump over the material due to the shape of their tip.
Most people use unibits when drilling holes in thin sheet metal, or wood. For example, to route cables through electronic components, where they may be different sizes of cables that require different size holes.
Downsides of step drill bits
However, there are some downsides to step drill bits that you should be aware of.
Since they come with a single flute, unibits generally have poor chip ejection.
As a result of the above, they are not great for drilling holes in thick material.
They are very difficult to sharpen, and if the tip becomes too dull, you will have to begin drilling pilot holes.
What material can I drill with a step drill bit?

The most common use of a step drill bit is to make holes in thin sheet metal, up to 1/4″ thick. These types of bits work best on softer metals such as aluminum, however some heavy-duty unibits can also be used on harder metals such as steel.
Unibits are suitable for other electrical-based work as well. They are useful for drilling into plastic, including acrylics.
Step drill bits can also be used when drilling into wood, however they are less popular for this purpose. As long as the wood is not so thick that you will have problems with chips being ground up and creating excess heat, you will be fine.
It's not recommended to use step bits on masonry for this same reason – they will not eject chips efficiently.
How do I use a step drill bit?
Once you have your step drill bit attached to your drill and your material secured, you next want to consider what size of hole you want your drill bit to create.
To ensure that you don't go too far into the material and make a hole that's too big, you can wrap a piece of tape around the bit, just above the "step" that you want the hole to reach. When you hit the tape, you'll know that it's time to stop drilling.
When drilling into most materials, there's no need to use large amounts of force when drilling with a step drill bit. Simply place the bit in the right spot, hold it securely, and let it drop down through the steps, applying a small amount of pressure if necessary.
If drilling into metal, be careful about chips – it may be a good idea to use eye protection. Also, be sure to give the bit time to cool down a little in between holes to promote its longevity.
You may want to file off the edges of the hole to make them smooth, but remember that most unibits do a great job avoiding creating burrs, even when drilling metal, so this isn't always necessary,
How much should I pay for a step drill bit?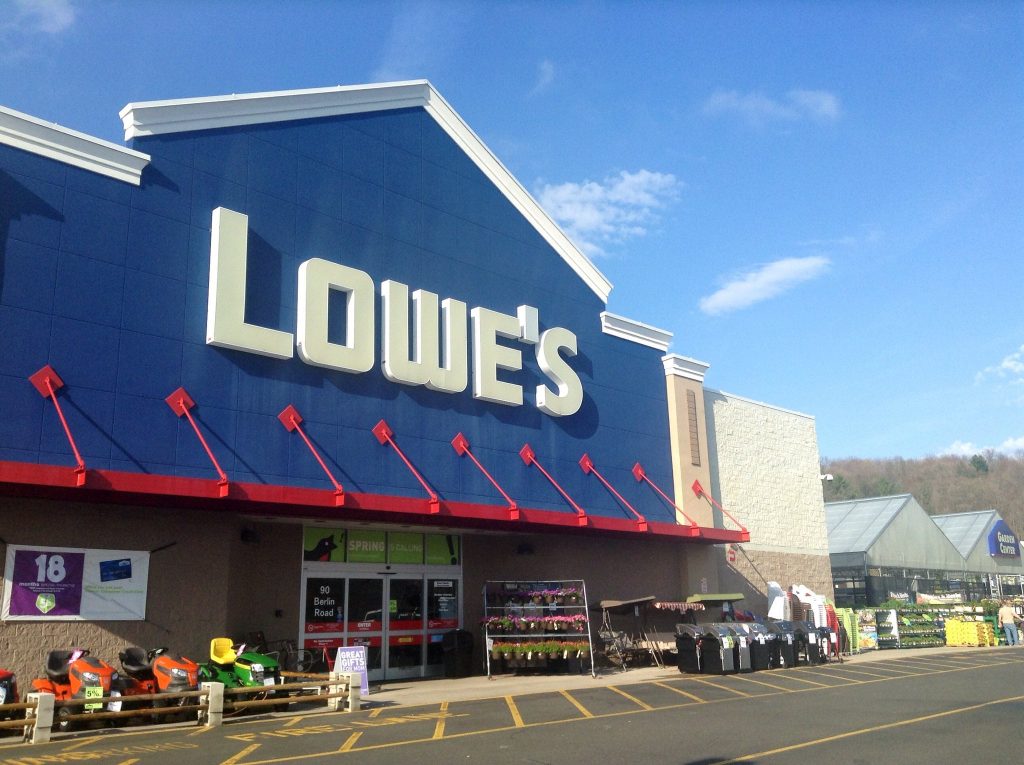 In general, a good individual step drill bit will set you back about $15-$40, depending on its size, while a set of small unibits (up to 1″ in diameter) will be around $20-$40.
This is why it can be worth getting a set – your price per bit will be much lower.
Even if buying a single bit, we would recommend going for a better-quality option rather than trying to find the cheapest unibit possible.
This is because there is such a small price difference between cheap and expensive step drill bits, that it's worth going for the best option you can find.
Remember, the bigger the bit, the more it's likely to cost. This is normal – it takes more effort to make a bigger bit and to ensure the titanium coating is applied properly.
Do I need a set of step drill bits?
Since a single step drill bit can be used to drill different-sized holes, it might seem a little pointless to get a set.
The good thing about having a set of unibits is this can allow you to drill holes more efficiently, without the need to tape your bit to ensure the right size.
For example, if you have a 3/4″ diameter bit, and want a 1/2″ hole, you will need to tape at the 1/2″ step and stop drilling there.
However, if you also have a 1/2″ bit, you can simply use this bit all the way to the base, without the need for tape.
To determine if you need a set, think about the type of drilling you'll be doing, and how often you'll want to switch between different hole sizes.
Also, remember that unibit sets normally come with a handy case to keep them in, which is a nice bonus. Individual step bits don't normally come with anything to keep them in.
Conclusion
You've reached the end of our buyer's guide.
Remember, the most important thing to consider is the size of hole you need to drill. The bigger the holes, the more expensive your bits will generally have to be. However, bigger step drill bits are more cumbersome to use, especially in tight areas.
This is why it's so important to think carefully about the different possible ways you plan to use your drill bits before buying.
Still not sure what to get? Drop us a comment below and we'll get right back to you.
About the author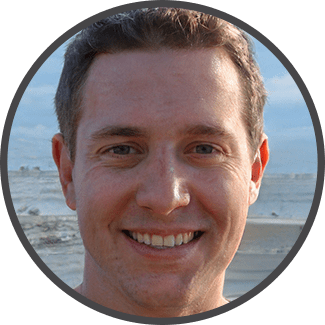 I'm Steve, and I'm the Drill Bit Guru! When I bought my first home, I realized that most odd jobs that came up I could do myself. These days, I DIY pretty much everything, especially jobs that require the use of a drill!