Looking for a new spade bit?
In this buyer's guide, we've reviewed the 6 best spade drill bits for sale in 2023.
We've also outlined some key things to consider when buying, to help you find the best spade bit for your specific needs.
Quick Comparison Table
BEST OVERALL
Irwin
Blue Groove Pro Spade Bits
Irwin
Blue Groove Pro Spade Bits
Best Spade Bits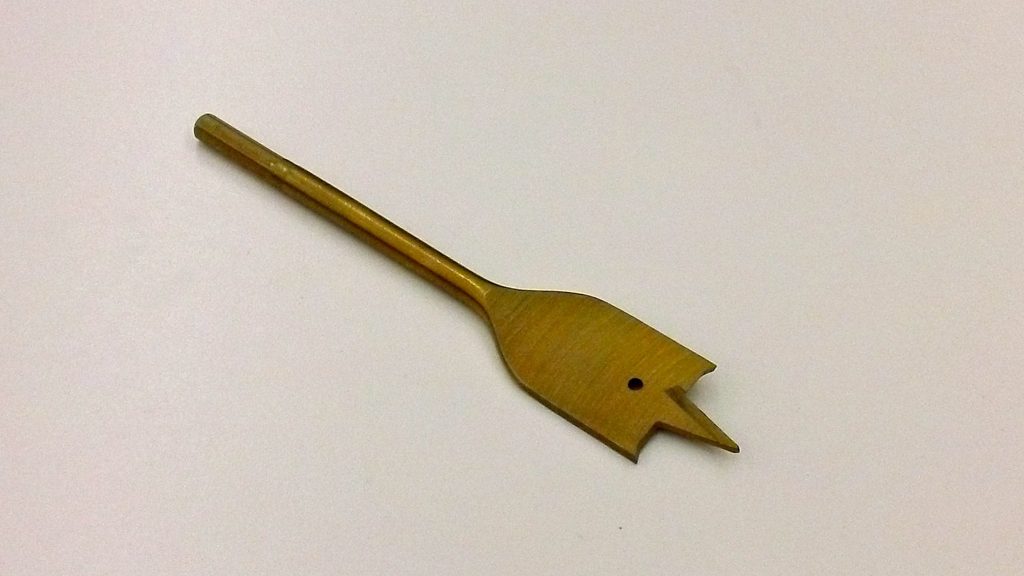 Looking for something to drill efficient holes in wood?
In this section, we've reviewed the 6 best spade drill bits for sale right now, in terms of durability, ease of use, and value for money.
The thing that really sets this product apart is the number of bits included in the set. You get 10 spade bits, ranging in diameter from 1/4″ up to 1-1/2″, ensuring you can create basically any size hole that you need.
Given how many spade bits you get, the price for the set as a whole is actually pretty reasonable. The set even comes with a pouch to organize and keep your bits in, which is nice.
But how do these spade bits actually perform?
The thing that we like about these bits is the groove – it's especially wide, making for slightly quicker drilling than with most similar-priced bits. And since the tip is nice and sharp, these are very easy to use.
Although there's no titanium coating, the material is still durable, and won't create excess heat. On the whole, this is a great option if you need a versatile set of spade bits.
Pros
Allows for easy drilling.
Good price.
Has just about any size you'd need.
Durable.
Cons
None to mention – great set for the price.
Overall value rating
⭐⭐⭐⭐⭐
Looking for just a single spade bit?
If you only need a single bit, and aren't sure what size to get, a 1″ option is a good choice. It'll make holes large enough for most purposes, but isn't too big that it becomes difficult to use.
We like this bit from DeWalt because of its durability. The shank is nice and thick, meaning it's very difficult to snap, and the tip stays sharp for the life of the bit.
The other thing that's good about this spade bit is how clean its holes are. As you can see in the photo, the cutting edges are actually tapered up, instead of pointing up like on most other bits. Meaning, as the bit enters the wood, it makes a much cleaner entry than you might expect. This does slow down the speed at which you can drill a little, however.
Despite these two nice features, this bit is still reasonably priced. It also does a good job removing chips, especially for a spade bit.
Pros
Makes surprisingly clean holes.
Very tough bit.
Great price.
Good chip ejection.
Cons
Slightly slower drilling than you might expect.
Overall value rating
⭐⭐⭐⭐⭐
Like WorkPro, Bosch also make a spade bit set.
This set is a little more expensive than the WorkPro set we've already looked at. However, you do get an extra 3 bits in this set.
What Bosch have done with these bits is use a threaded tip, rather than the traditional flat tip you get on most spade bits. This makes for much faster drilling, however it can make these bits a little difficult to use. Sometimes the tip gets stuck, depending on the type of material you're drilling, making it difficult to begin your hole.
To further increase drilling speed, Bosch have included spurs on the blade, which are very effective at grabbing into the wood. Since they're not at the very edge of the blade, they don't make the hole especially messy, since their entry point gets cleaned up by the rest of the bit.
These are pretty durable spade bits, especially in the tip, but they're not the toughest options out there.
Pros
Makes for very fast drilling once the hole is formed.
Good value set.
Produces reasonably clean holes.
Cons
Can be difficult to begin the holes initially.
Irwin are another premium brand in the same price range as the Bosch bits we just looked at. However, we prefer Irwin's bits, for a few different reasons.
Firstly, their spurs are placed differently, and they have better chip removal capabilities, meaning you get cleaner holes. Although these bits might not be as fast as the Daredevil, they make slightly better holes, and the tradeoff is worth it in our opinion.
Secondly, these bits are a little cheaper than Bosch's set. Despite this, they still come with a sturdy hinged case – it's made of ABS plastic, which is quite tough stuff.
Finally, we also like these bits for their durability. They stay sharp for a really long time, and while the shafts aren't the thickest, they're extremely resistant to snapping.
Overall, this set is an excellent all-around option – the 8 included bits are tough, and produce very clean holes.
Pros
Comes with a good-quality case.
Bits stay sharp for a really long time.
Makes for clean holes.
Good value for money.
Cons
Not the fastest, but definitely not slow.
Overall value rating
⭐⭐⭐⭐⭐
This is probably one of the cheapest spade bit sets you can buy right now. But why is it so cheap?
For starters, you only get 6 bits, so you'll need to be sure that the included sizes match the holes you want to drill.
In terms of actual drilling, these spade bits produce fairly clean holes. They're not perfect, but these bits do a pretty good job, even on hardwood like maple.
The tips on these bits also probably won't stay as sharp for as long as they would on most other bits. However, the shafts are really thick – they're definitely not likely to snap.
You don't get a titanium coating on these bits, which isn't surprising given their price. Also, they don't come with a case to store them in.
Pros
Works well on any wood.
Durable shaft.
Great price.
Cons
Tip isn't incredibly long-lasting.
Rather than going for a titanium coating, Comoware have made the actual bits in this set out of carbon steel. This makes for a really durable set of spade bits for a fraction of the cost of a titanium-coated option.
As for their performance, these spade bits drill pretty well, in large part because the tip stays nice and sharp over time. You get 13 bits in each set, so there's always a similar-size spare if you need it.
Quite surprisingly (given their price), these bits come with a decent-quality pouch-style case to hold them in, and do an OK job removing chips.
Although these bits won't be able to drill at an angle, they work pretty well on nearly any material – Comoware state that you can use them on materials such as PVC if you want to. We wouldn't recommend them for drilling thick material though.
Pros
Great value.
13 bits in each set.
Good durability.
Works on some plastics & metals as well as wood.
Cons
Not great for drilling at slight angles.
Overall value rating
⭐⭐⭐⭐⭐
How To Choose A Spade Bit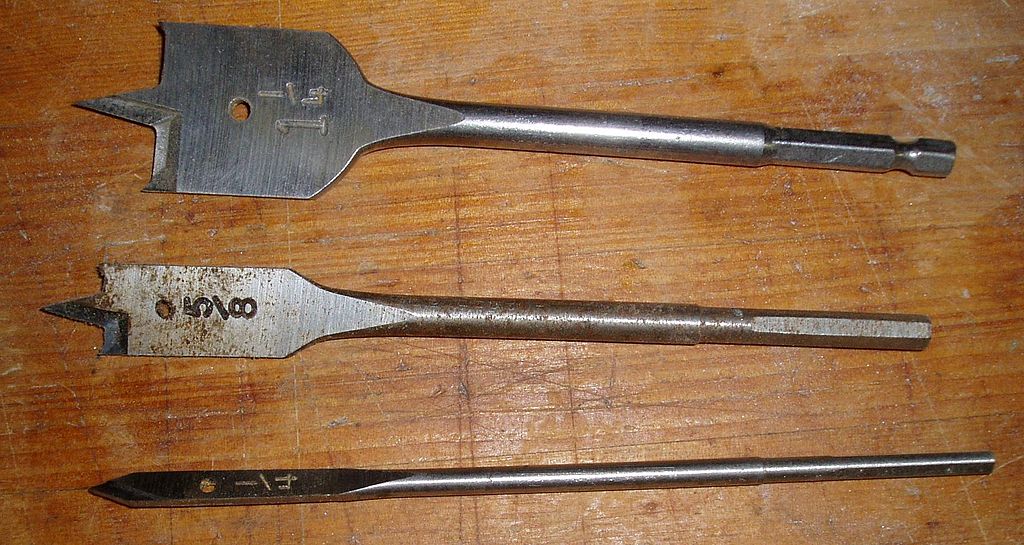 Now we'll discuss some key things to consider when choosing the best spade bit (or set of spade bits) for your woodworking project.
What are spade bits used for?
Spade bits are normally used to drill holes in wood. They're an alternative to Forstner bits or hole saws.
You would use a spade bit when you want to drill holes as quickly and efficiently as possible. For example, if you're looking to pass some wiring through a cabinet, and you don't need a perfect burr-free hole, a spade bit is a great option.
Due to their shape, spade bits aren't really appropriate for drilling material other than wood. You would use a step drill bit to drill holes in plastic/metal instead.
Benefits of spade bits

There are a number of benefits to using spade bits versus other drill bits to drill into wood:
They're normally cheap to buy.
They make for very quick hole drilling.
They can be used even on relatively thick material.
They're easy to use.
For most people, their price and ease of use are the main drawcards of spade bits.
Downsides of spade bits
However, it's important to be aware of some of the limitations of spade bits.
They don't often produce a perfectly clean hole – you may have to do some sanding to get the edges smooth.
They can't be used for extremely large holes – you'll need a hole saw for anything over 2″ in diameter.
They don't come with a flute, so they aren't the best at removing chips quickly – although some spade bits are better than others.
They can't be used for drilling at extreme angles.
Ultimately, as long as you only need rough holes, and just need something to create holes quickly, then spade bits are still a great option.
What makes a good spade bit?

There are a few things to look out for when looking for a good spade bit.
The first is how easily it enters the material. You don't want to have to use excess force, or have the bit walk over the surface as you begin drilling. If the tip is sharp enough, and the blade well-designed, you should be able to drill holes without applying much force at all.
The second factor that makes a good spade bit is how easily it pulls out of the hole once you've drilled it. The last thing you want is to have to rough up the sides of the hole you've just made when removing your bit – it should come out as easily as it went in.
It's also important that your spade bit is durable, especially when working with hardwood. You don't want the tip to become dull ahead of time, because this will significantly decrease the usability of the bit.
And finally, you need a spade bit that's the right size for your specific needs. Unlike with a step bit that you'd use on metal, a single spade bit can only be used to drill a single size of hole. This is why getting a set can be a good idea. Also ensure that the shank is the right size for the drill you'll be using.
How to find a durable spade bit
The best indicator of a durable spade bit is normally its customer reviews.
Look at what people who have used the bit for a really long time think about its durability. Will the tip stay sharp, and is the shaft prone to cracking?
When looking at reviews, it's good to look for reviews that mention the type of material that the bit has been used on. Is it similar to what you'll be drilling?
In general, a titanium coating is also a good sign of durability, because it helps shield the actual bit from the friction generated when drilling.
The factory sharpness of the cutting edge can also play a role. The sharper the bit is from the factory, the sharper it will stay over time, in general.
How much should I spend on a spade bit?

As we mentioned above, spade bits are one of the cheapest types of drill bits you can buy, especially for drilling larger holes. But how much should you actually spend?
In general, you can get a good-quality spade bit for as little as $5, and a set of spade bits for anything from $10-$20. This is why getting a set often makes sense – your cost per bit will be significantly reduced.
If you know that you'll be using your spade bits for a long time into the future on multiple different projects, it's normally worth investing in a better-quality bit (or set of bits). This is because the quality options aren't normally much more expensive than the cheaper products, because spade bits are so cheap to make.
Cheap spade bits are only worth buying if you need something quick and easy to drill a few simple holes that you don't plan or using much, or if you just want to experiment and see if a spade bit is right for you. Otherwise, quality bits are definitely worth the extra few dollars.
Conclusion
This is the end of our buyer's guide.
If you're still unsure what to get, leave us a comment below, and we'll get back to you as soon as possible.
About the author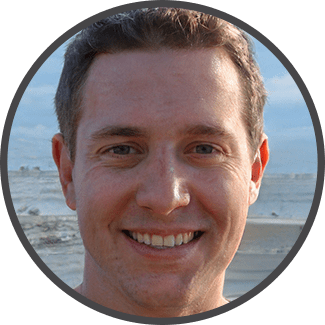 I'm Steve, and I'm the Drill Bit Guru! When I bought my first home, I realized that most odd jobs that came up I could do myself. These days, I DIY pretty much everything, especially jobs that require the use of a drill!