Looking to drill into tile?
In this buyer's guide, we've reviewed the 6 best masonry bits for tile.
We've also outlined some key things to consider when buying, to help you get the best tile drill bits for your specific needs.
Quick Comparison Table
BEST MASONRY SET
COMOWARE
Masonry Drill Bit Set
BEST DIAMOND SET
DRILAX
Diamond Hole Saw Set
COMOWARE
Masonry Drill Bit Set
DRILAX
Diamond Hole Saw Set
Best Drill Bits For Tile

Let's begin our reviews.
In this section, we've looked at the 6 best drill bits for tile you can buy in 2023.
If you're going to drill your tile using a carbide-tipped bit, this set is a great pick.
These masonry bits features a smart flute design, which does a great job removing chips/dust as you drill.
The tips stay nice and sharp, making it easier to start holes, even when drilling into tiles with glazed surfaces. Plus, since there are plenty of spares in this set, you can always swap a bit to ensure that you're drilling with something that's sharp.
They work well with water, are compatible with most household drills, and are very reasonably priced.
On the whole, if you need to make it easy to drill into most types of tile, these bits are a good choice.
However, these bits aren't the greatest for drilling into tough porcelain or stone tile.
Pros
Good price.
Tips stay sharp.
Comes with spares.
Allows for easier tile drilling.
Cons
Not the best for harder materials.
Overall value rating
⭐⭐⭐⭐⭐
For drilling into harder tiles, such as porcelain, you might want to consider a hole saw rather than using a regular masonry drill bit.
These bits feature a diamond grit coating. Since diamond is the hardest material known to man, this enables these bits to drill through tile almost effortlessly, without producing cracks.
Another benefit of diamond is it's not going to wear down quickly. These bits last an extremely long time without going dull.
What's more, since they use synthetic diamonds, these hole saw bits are actually surprisingly cheap. And they work with any regular drill with a 1/4″ shank.
Just note that the cutting depth is a bit limited. With these bits, you'll want to ensure that your tile is less than 3/4″ thick.
Pros
Extremely durable.
Works on porcelain and stone.
Great value.
Makes it extremely easy to drill.
Cons
None to mention given the price.
Overall value rating
⭐⭐⭐⭐⭐
This is a premium masonry bit – it's actually more expensive than the sets we've looked at so far, even as an individual bit.
Essentially, it's designed to drill concrete as efficiently as humanly possible.
But we like this bit because it performs so well when drilling tile, since the two materials are quite similar.
It comes with a complete tungsten carbide head, which as you'd expect is extremely durable. While we'd still recommend taping over your tile hole area when using this bit, it does a great job even without a pilot hole.
The flutes are also designed to be as wide as possible, making for quick chip/dust extraction.
Pros
Strong & sharp tip.
Wide flute design.
Very efficient.
Cons
A little expensive for a single bit.
This is probably one of the most expensive diamond hole saw sets you can buy right now. But what do you get for the extra cost?
The quality of these bits, as you'd expect, is extremely good. They simply won't wear out, and offer clean, efficient drilling – even for the toughest porcelain/stone tiles.
These diamond hole saws are also quite a lot taller than most comparable products. Meaning, they can drill deeper holes in thicker material.
And despite this, they still work with both corded and cordless drills – the shank size is 3/8″. These bits also come with a really good quality storage case, which is a nice bonus.
The only downside to this product is probably the price. And given how many bits there are in this set, you might not end up using all the bits all that often.
Pros
Best bits for tile for sale right now.
Super durable.
Comes with a tough case.
Tall design allows for deep drilling.
Overall value rating
⭐⭐⭐⭐⭐
Bosch is one of the only companies out there that makes a bit specifically designed for drilling tile and glass. This isn't a masonry bit – it's a completely different design.
First of all, while the tip is still carbide, it's a very different shape, which is designed especially to prevent walking on slippery materials. As a result, you can use this drill without pilot holes, even on glazed/glossy tile surfaces.
This tip is also extremely durable, making for a long-lasting bit. However, even if you somehow manage to wear this bit out, it's not a big deal, because it's surprisingly cheap.
There's no flute with this bit, which does prevent heat buildup problems, although it can cause chip ejection issues. We wouldn't recommend this bit for drilling deep holes.
However, as a cheap and extremely easy way to drill holes in even extremely dense tile, this bit is definitely worth considering.
Pros
Super durable.
Very walk-resistant.
Great price.
Easy to use.
Cons
No flute – not great for thick material.
Overall value rating
⭐⭐⭐⭐⭐
This is a single diamond bit from dewalt.
You get a diamond-grid encrusted tip, which allows for clean, efficient drilling into basically any tile material.
And once the hole is made, it's easy to eject the core, making for quicker repetitive drilling.
Unfortunately, although it's priced very reasonably, this isn't the most durable diamond-coated bit. It can wear out quickly if used repeatedly in quick succession.
However, it still cuts effectively, and is a good option if you don't need a massive set of diamond drill bits.
We'd recommend this bit if you've just got a few holes to drill, and don't particularly need a super durable bit or a set of hole saws.
Pros
Allows for efficient drilling.
Easy core ejection.
Good price.
Cons
Could be more durable.
How To Choose Drill Bits For Tile

Still not sure exactly what to get?
Keep reading, and we'll discuss some key things to consider when shopping for drill bits for tile.
What type of drill bit is best for tile?
There are two different types of drill bit you can use to drill into tile.
Carbide-tipped masonry bits do a good job on most types of tile. They're the cheapest and simplest option. However, they're less effective on extra-dense tile material, such as porcelain. As such, they can become dull more quickly, and when they do, they're no longer good for drilling into tile.
Diamond hole saws are the more expensive option. Because they come with a diamond tip, these types of bits will penetrate tough tile materials much more easily, and will also last longer. These bits have a hollow core rather than using flutes to eject material as you drill.
Apart from these options, Bosch also make a drill bit specifically designed for tile/glass. It has a traditional shape, but no flutes, and the tip is designed specifically not to walk across glossy surfaces.
Does the type of tile matter?

Yes. The more dense your tiles, the more likely they are to crack if you use a regular masonry bit.
Therefore, if your tile is extra dense, you'll want to use a diamond-tip drill bit (a hole saw, to be more precise).
Ceramic tiles are slightly easier to drill through than most other tiles. A carbide-tipped masonry bit should produce a clean hole.
However, if your tiles are made of porcelain, or stone, you'll want to use a diamond-tipped hole saw to ensure you don't crack the tiles.
Which tile drill bit brand is best?
No matter what type of bit you choose to use to drill through your tile material, it's not a good idea to blindly buy from a specific brand if possible.
Nearly all drill bits are manufactured overseas these days, normally in China. Therefore, buying from a well-known brand isn't necessarily going to guarantee a quality drill bit.
Instead, it's a good idea to assess the quality of each bit you look at individually. What do previous customers have to say about the quality of the bit? Have they been using it on similar material to what you'll be drilling?
Surprisingly, some of the brands you'll find online that you've never heard of before will produce some of the best drill bits for sale in terms of value for money.
You just need to be able to see how their products have performed in the real world, and customer reviews are a great way to do that.
How much should I spend on tile drill bits?

Typically, prices for tile drill bits look like this:
Individual carbide-tipped masonry bits: $5
Individual diamond hole saws: $8
A set of carbide-tipped masonry bits: $15
A set of diamond hole saws: $10-$40, dependent on quality and quantity
However, price isn't necessarily the best indicator of quality.
Think about what you'll be using the drill bit for, and how long you want it to last.
For example, if you just need to make quick holes in a few tiles, it's probably not worth buying the best diamond-tipped hole saw you can find.
Should I get a set of tile drill bits?
As we just showed, if you get a set, your cost per bit will normally be much lower.
However, you need to confirm that you'll actually find a use for all of the bits in your set.
Think about whether you'll need to drill lots of different-size holes in tiles (or other masonry) in the near future.
You may also want to buy a set because it has spare bits in the size that you need. This can be really handy, especially if you really need your bits to be ultra-sharp for the type of drilling that you're doing. Some sets come with a good-quality case, which can also be helpful.
Overall, drill bit sets can be great value for money, but it's important that you'll eventually have a use for all your extra bits.
How can I ensure the longevity of my tile drill bits?

Tiles are often made of extremely abrasive material, which can wear down your bits extremely quickly.
To prevent massive heat buildup, you'll want to use water to help lubricate your drill bit. If it gets too hot, you should stop drilling immediately and let the bit cool down.
The other thing you can do to prolong the life of your bit is decrease the drill speed. Remember, tiles can be fragile, and aren't normally thick, so it's a good idea to use a slower drilling speed to give the bit more time to eject the tile dust.
How to drill into tile without cracking it
Using water, as we just described, can be a good measure to prevent cracking when drilling into tile. In some circumstances, excess heat can cause your tile to crack.
Here are some other steps you can take to ensure that your tile doesn't break when drilling:
Tape over the area where you want the hole. This not only helps to prevent cracking, but will also help to prevent slippage on glazed tile surfaces.
Ensure that the flutes of your bit are completely free of dust/debris before drilling, if using a masonry bit. This ensures that the dust from the tile has somewhere to go as you drill.
Use a slow drill speed and only apply as much pressure as you need.
Avoid using a hammer drill or hammer drill setting.
Make a pilot hole using a nail (or a masonry bit) and a small hammer, tapping gently to create a small dent.
Use a slight up and down motion every so often to ensure that your water is reaching the tip of the bit, where most of the heat is.
Apart from these measures, it's also important to wear safety glasses when drilling into tile. While tile isn't as potentially dangerous as drilling into stainless steel, it's important to protect against chips that may fly out of the hole as you drill.
Conclusion
This is the end of our buyer's guide.
Remember, even if you've never used them before, diamond hole saws are generally the best drill bits to drill into tile. They make for cleaner holes, easier entry, and more efficient drilling.
Just ensure that your material isn't too thick if buying diamond bits. Otherwise, you won't be able to drill all the way through your tile.
About the author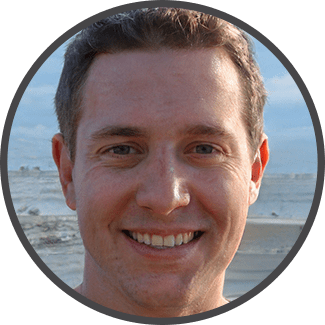 I'm Steve, and I'm the Drill Bit Guru! When I bought my first home, I realized that most odd jobs that came up I could do myself. These days, I DIY pretty much everything, especially jobs that require the use of a drill!