Looking to drill into concrete?
In this buyer's guide, we've reviewed the 7 best drill bits for concrete for sale in 2022.
BEST OVERALL
Owl Tools
Concrete Drill Bit Set
Owl Tools
Concrete Drill Bit Set
Contents
Best Drill Bits For Concrete

Let's begin our reviews.
In this section, we'll look at 7 of the best drills bits you can use for concrete.
These are masonry bits that are advertised as being especially good for drilling through concrete.
But how do they actually perform?
They feature the strong carbide tip you'll need to get through concrete, and the tip stays quite sharp over time.
If one of the tips does become a little dull, you can always swap it out. Each bit (except the 1/2″ and 5/16″ ones) comes with a spare in the exact same length.
Plus, the case that they come in is pretty sturdy, and does a good job preventing the bits from rusting.
Overall, given the price, these are great drill bits for drilling through concrete. We just wish that they lasted a little longer.
Pros
Reasonable price.
Good durability.
Rust-protective case.
Spares included.
Cons
Can get dull over time, depending on how they're used.
Overall value rating
⭐⭐⭐⭐⭐
If you're looking for a set of concrete drill bits from a recognized brand name, DeWalt also offer a handy option.
Rather than using a "carbide" or "tungsten carbide" tip, DeWalt use what they like to call "rock carbide".
This is basically a special compound that's a little tougher than what you get on most other drill bits. It's not as tough as diamond, but it does a great job extending the sharpness of your drill bit.
These bits also come with a four-flute design. As a result, they do a great job pulling dust out of the hole, which is especially useful when drilling concrete.
However, despite all these features, DeWalt's drill bits aren't the most durable on the market. And they only come with one spare – for the 1/4″ bit.
Another issue: there's no re-usable case for this set. We must say though that the price is very reasonable.
Pros
Super-sharp tip.
Removes dust really well.
Great price.
Cons
Not the most durable.
Need something for an SDS+ chuck?
Bosch is known for the quality of its masonry bits, and this product is no exception.
What the company does is use a special hardening process, designed to ensure that the bit stays sharp for as long as possible.
As you'd expect, you get a carbide tip, which stays sharp for a really long time. On the whole, this is one of the toughest drill bits for concrete that money can buy.
Bosch sell their bits individually, meaning you can save a little money if you know what you need. However, if you're drilling a number of different-diameter holes, it may end up costing you more to get all the bits you need.
Note: ensure that you have a drill that takes SDS+ bits before buying. SDS is the rotary hammer standard chuck type.
Pros
Excellent durability.
Sharp carbide tip.
Can be bought individually.
Cons
N/A – excellent quality bit.
Overall value rating
⭐⭐⭐⭐⭐
If you're looking for the best rotary hammer bits for concrete, this set is probably what you want.
Makita's SDS+ bit set is far from cheap. However, for professionals or those who are always using their rotary hammer, it might be worth the investment.
You get seven bits in this set, ranging from 5/32″ in diameter all the way up to 3/4″.
The bits themselves are designed to maximize the amount of carbide in contact with the surface at any given moment. Meaning, less concrete in contact with metal, and a longer-lasting drill bit.
These bits have been designed for professional use, meaning they can be used for longer without overheating. Makita have achieved this through the design of the flute – these bits do a great job removing dust, whether you use water or not.
Pros
Extremely durable.
Can be used for longer without a cool-down period.
Set has everything you need.
Excellent dust removal.
Cons
Slightly expensive, but worth the investment in our opinion.
Overall value rating
⭐⭐⭐⭐⭐
Unlike all of the other drill bits we've looked at so far, the company that makes this product say their bits will work with other materials, such as glass and wood.
But is getting a multi-purpose drill bit a good idea?
It can be, if you're not going to be spending most of your time drilling into concrete. For example, if you've got concrete covering another material, like wood, and you only need to break through the initial layer.
The issue is, if used mostly for concrete, these bits will wear out more quickly than something like the Bosch bits we just looked at.
However, this isn't to say that they're brittle. They actually do a pretty good job going through concrete, and don't become dull as quickly as you might expect, given the price.
Although they're advertised as multi-purpose, these are really masonry-oriented drill bits, meaning they work great for concrete. We wouldn't recommend them if you're mostly going to be drilling glass though.
Pros
Works with lots of different materials.
Good durability.
Great value.
Cons
Can wear out quickly when used for just concrete.
This is one of the cheapest masonry bit sets you can buy right now, in terms of price per bit. But should you buy it for drilling concrete?
Despite the price, these are reasonably durable drill bits. They come with a slightly larger tip than most other options, meaning more protection for the shaft.
However, they will wear out quicker than most other bits from premium brands. There are spares though, and you do get a plastic case.
The manufacturer actually recommends the use of water with these drill bits, to help clean out dust more efficiently.
If you were planning to drill with water anyway, this isn't a problem. However, there are concrete bits out there that perform well even without water.
Pros
Good durability.
Comes with spares.
Great price.
Comes with a plastic case.
Cons
Supposed to be used with water.
Overall value rating
⭐⭐⭐⭐⭐
This is another masonry-only bit that works great for drilling through concrete.
These bits are meant specifically for use with Topcon masonry screws. This is why there's only one size available in this five-pack.
So if these types of screws are what you're using, then this drill bit is a great pick.
The bits themselves work well with standard drills, and have a carbide tip, like you'd expect from a masonry bit.
Although they drill holes in concrete very quickly, these bits aren't quite as tough as we'd like. However, the price is pretty great.
Pros
Great price.
Works well with 1/4″ masonry screws.
Makes light work of concrete.
Cons
Could be more durable.
How To Choose The Best Drill Bit For Concrete

Now we'll discuss some key things to consider when choosing a masonry drill bit for concrete.
Why do I need a sharp drill bit for concrete?
To drill through concrete, you will want to use a masonry bit.
However, you cannot just use any old masonry bit. It's important that your drill bit is as sharp as it possibly can be.
This is because concrete is often a lot harder than other types of masonry, especially material such as sandstone.
It's also important that your drill bit is tough enough to retain its sharpness over time. We'll discuss durability in the section below.
How to find a durable drill bit

As we just mentioned, for concrete, you will want to use the sharpest masonry bit you can find.
However, you will also want your drill bit to be as tough as possible, to ensure that it does not lose its sharpness over time.
The toughest masonry drill bits come with a carbide tip.
Another consideration is the brand. Some no-name companies fail to use the right carbide compound, or apply it improperly, resulting in a drill bit that becomes blunt very quickly.
This doesn't mean that you should avoid these no-name drill bit tips completely, as some of them are actually quite good.
Even some of the big-name brands have started outsourcing their work to low-quality factories in China, meaning that they're not necessarily going to make a tougher drill bit than a no-name brand.
What's the difference between carbide, rock carbide, and tungsten carbide?
Carbide is a name for a compound created of metal and carbon.
Tungsten carbide is a type of carbide, where tungsten as used as the metal in the compound. It's one of the toughest types of carbide, used for armor-piercing shells, and is twice as strong as steel.
Rock carbide is a special term used by DeWalt, that refers to their patented version of carbide. It's not known exactly what compound they use to coat their drill bit tips, but rock carbide is known for being incredibly tough – more so than some tungsten carbide tips.
Do I need an SDS drill bit?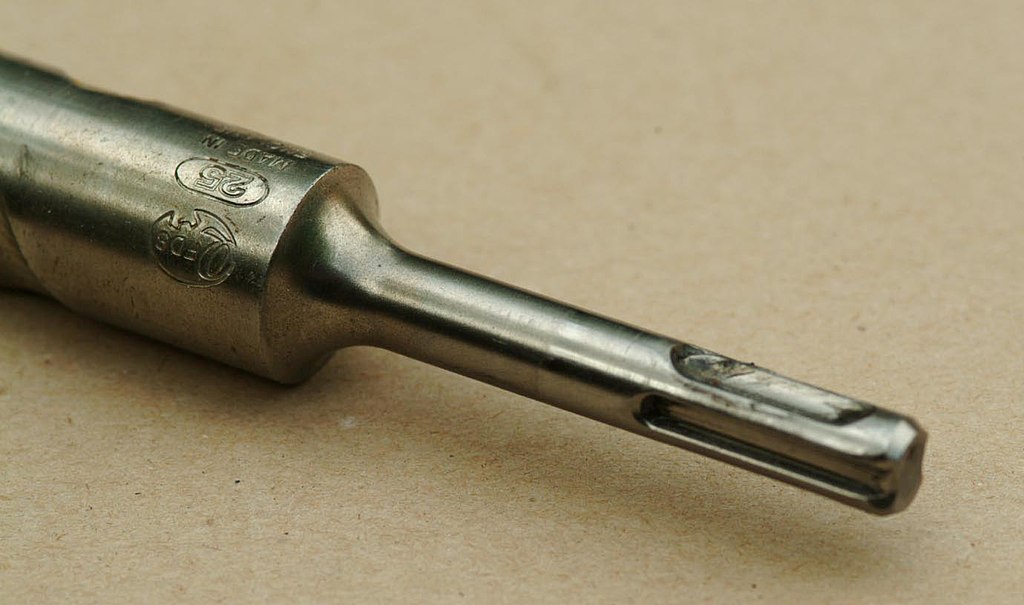 SDS drill bits will only work with SDS drills. All rotary hammers for example use SDS drill bits.
Therefore, you shouldn't buy SDS bits unless you have a compatible drill.
Note that these days, most bits are sold as "SDS+" instead of just SDS. SDS+ is an improvement on the original SDS design, and it's what most modern drills use.
There is also "SDS heavy", which is a completely separate type of drill bit used for heavy masonry work. It's not compatible with SDS or SDS+ drill bits.
Best drill bit shape for concrete
Masonry drill bits come in a few different shapes and sizes.
Most commonly, they have a wider tip, allowing for easier penetration of super-hard surfaces.
You will definitely want a bit with a slightly wider tip than the shaft, and ideally the tip will be coated in tungsten carbide for durability.
Four-flute designs can also be helpful, as they pull dust out of the hole more efficiently. This is important because concrete creates a heck of a lot of dust.
Can I just buy any masonry bit?

Masonry bits are obviously the place to start when looking for something capable of drilling concrete.
However, some masonry bits will be slightly better for concrete than others.
It's a good idea to look at the product description and see what the manufacturer states about drilling concrete specifically. Customer reviews are also a useful resource – check if anyone else has used the bit for a similar purpose to what you plan to do.
In general, the quality of the tip is especially important, as well as how heat-resistant the drill bit is. Concrete, as a very rough material, can cause more friction than other masonry such as marble.
Therefore, you will want a quality drill bit for drilling concrete, especially if you plan to do lots of drilling without cool-down periods.
How much should I expect to pay for concrete drill bits?
In general, if you know what size holes you'll be drilling, and don't plan on drilling very many holes in the distant future, then a 5-piece set should be all you need. This will cost about $15 for a quality set.
There are also larger kits, if you need a bigger set of masonry bits. Some options you can also buy individually, for around $5-$10. Although this means a higher overall cost, you can save money if you know what you need.
Rotary hammer sets will tend to cost more, because they will often contain much bigger bits, up to 1″ in diameter.
What type of drill is best for concrete?

In theory, you can use a regular drill for concrete. However, it's normally a good idea to use a hammer drill if possible.
This is especially true if you're drilling a lot of holes, or need to be especially precise.
Hammer drills have a sort of percussion mechanism, which makes for more effective drilling when attacking masonry.
Basically, this design helps pulverize the concrete for you, meaning less effort is required to drill the holes you need.
Some regular drills have a hammer function to allow for more effective masonry drilling. Be sure to look for this setting before going and buying a rotary hammer or hammer drill.
How to drill through concrete
If possible, you may want to make a pilot hole in the concrete with a regular drill, before attacking it with your hammer drill. This will result in a cleaner entry and a more accurate hole.
It's not strictly necessary, but using water can be helpful when drilling into concrete. Not only can it prevent overheating, it also helps to soak up fine dust particles that would otherwise go into the air, and can help prevent the drill bit becoming clogged up.
Conclusion
You've reached the end of our buyer's guide!
Still not sure which drill bit to buy? Drop us a comment below and we'll get back to you ASAP.
About the author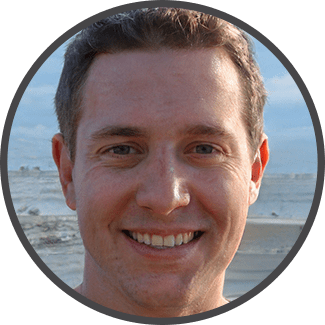 I'm Steve, and I'm the Drill Bit Guru! When I bought my first home, I realized that most odd jobs that came up I could do myself. These days, I DIY pretty much everything, especially jobs that require the use of a drill!